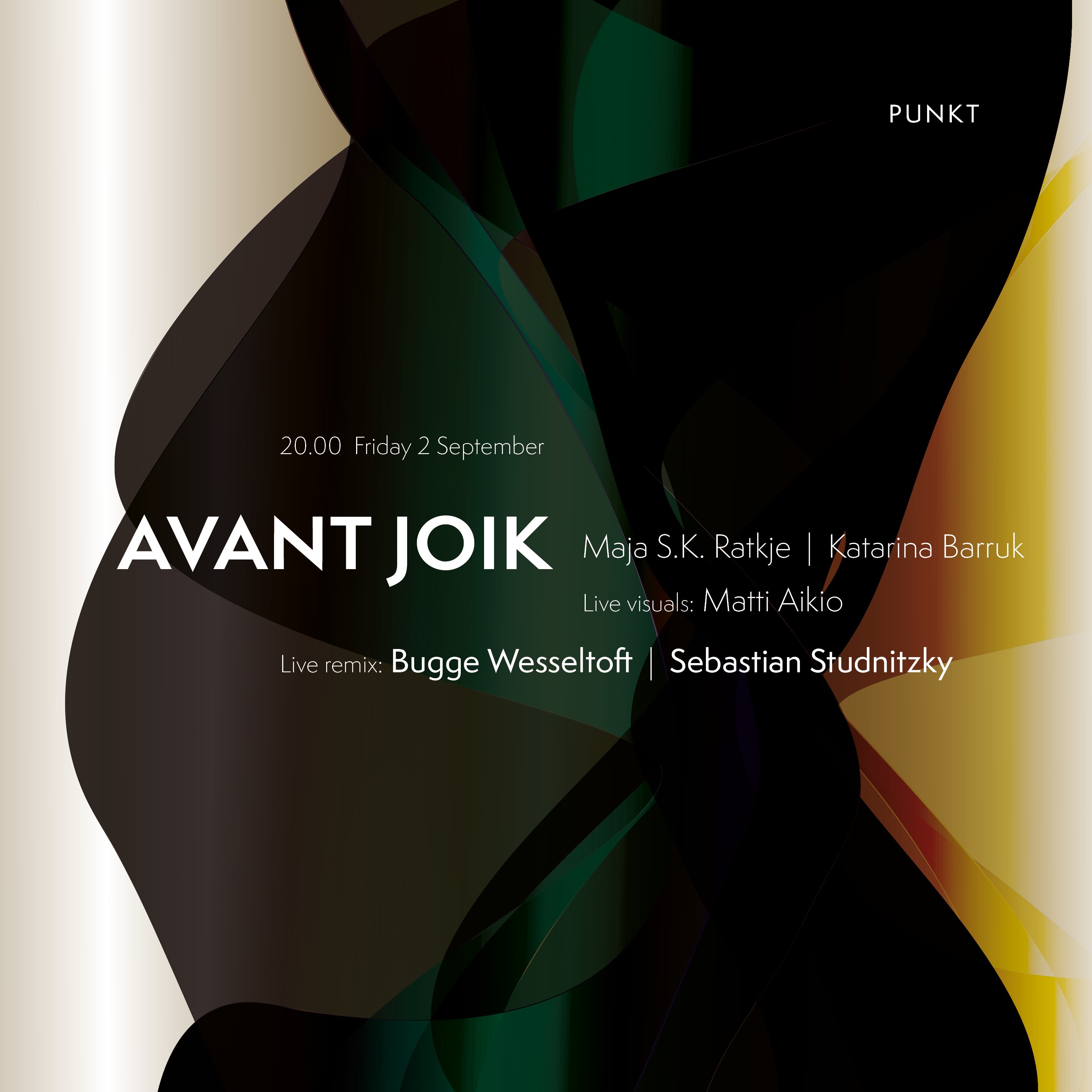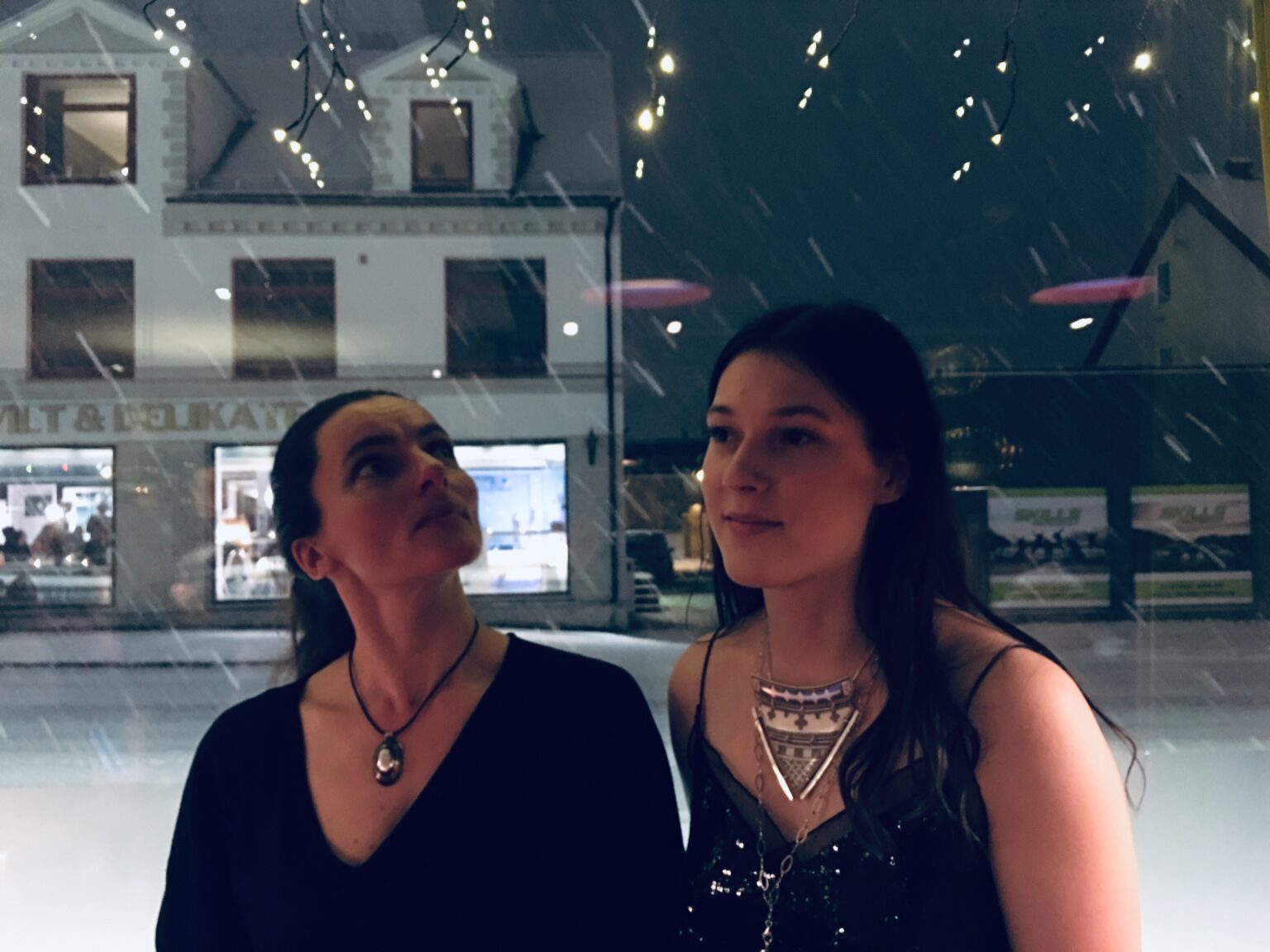 Avant Joik is Maja Solveig Kjelstrup Ratkje (vocals and live electronics) and Katarina Barruk (vocals/joik) with live visuals by Matti Aikio, and blends joik and vocal experimentation with an electronic, experimental palette, evoking the eerie, contemplative atmospheres of the North, while the turmoil and distortion of an untamed, forceful nature lurks beneath.
Maja Solveig Kjelstrup Ratkje is a Norwegian composer and musician. Her work spans from scores for ensembles to improvised live performances. She writes for orchestras as well as performing herself as a soloist or in groups such as SPUNK besides Avant Joik. She has received numerous awards, and is one of the most respected avant-garde musicians in Europe the last 15 years. In 2001 Ratkje was the first to receive the prestigious Arne Nordheim award.
Katarina Barruk from Västerbotten, Sweden, is known as one of Sápmi's most talented live artists. A unique and captivating performer, she uses her voice as her instrument, mixing joik and other vocal techniques. In 2020 she received one of the most eligible writer and composer prizes in Sweden – SKAPs Kulturbärarpris. Barruk presents her own compositions in Ume Sámi language, a language which is on UNESCO's red list of critically endangered languages, and that she cares deeply for.
Matti Aikio is a Sámi visual artist from Finnish side of the Sápmi. He has a background in Sámi reindeer herding culture. He holds an MA in contemporary art from Tromsø Academy of Contemporary Art. Aikio's art has been exhibited in various countries in Europe, Asia & Latin America. He works with mixed media, photography, sound, installations, video and text. His main interest as an artist is to try to offer the spectators a possibility to shift perspective on often marginalized issues. Lately he's been focused on topics like the concept, the idea and the image of nature and how the indigenous cultures seem to be squeezed by the schizophrenic nature relationship of the nation states and capitalism.
Ratkje's radical vocal experiments were matched with Barruk's joik – a traditional Sami song form – and the results were captivating, accompanied by one the best visual displays I've ever witnessed.
– Fact Magazine, review of Insomnia 2018.
It is hardly describable, all the more intense and touching, even when you don't belong to the Sami minority yourself, and you can't understand the lyrics of the shamanistic songs and you inevitably limit yourself to emoti-on-based listening. In any case, the joik is not about text… Accompanied with noises elicited from electronic controllers or [Ratkje's] unbelievable variations of her voice… The joik survived centuries of suppression of Saami culture, as well as the Ume Saami language, of which Katarina Barruk is one of the 20 remaining speakers.
– Taz.de, review of CTM 2019.
Photo by Aslak Holmberg/Maja S. K. Ratkje
LIVE REMIX: BUGGE WESSELTOFT | SEBASTIAN STUDNITZKY



"There is no musician or artist in the world that is not inspired by others. However, the important thing is to let inspiration develop, to work towards finding a unique means of personal expression. This is what I believe and is what I have always tried to achieve … to find my own thing, my own voice. I dont want to be another carbon copy of any great musician, past or present: I don't see the point of that. There have been so many good things done before, but one must find ones own sound."

Bugge Wesseltoft

Since the early 1990´s Bugge Wesseltoft has made an impressive, truly postmodern transition from his ECM nordic jazz traditions. Playing and recording together with the likes of Jan Garbarek, Sidsel Endresen, Terje Rypdal, Nils Petter Molvaer, Jon Eberson to forming his own innovative New Conception Of Jazz group and exquisite label "Jazzland Recordings".

Wesseltoft is multi-decorated with critics prizes for creating a unique, fresh blend of "modern jazz".

The Berlin based multi-instrumentalist STUDNITZKY has always been a traveler between the realms of jazz, classical and electronic music and has succeeded in combining virtuoso yet unassuming piano playing with his unique vocal-sounding trumpet style and organic use of electronics. Studnitzky has created his own distinct style, successfully finding a balance between being contemporary yet indefinably timeless. His inimitable music is detailed, minimalistic and transparent, yet it displays an emotional depth which is uniquely personal. He's performing his music in a solo setup, with his band KY or in the big scale format with classical string ensembles / orchestras. In 2014 he co-founded the XJAZZ festival Berlin, which immediately became Berlin's biggest jazz-festival.

Photo by Olha Ruccya