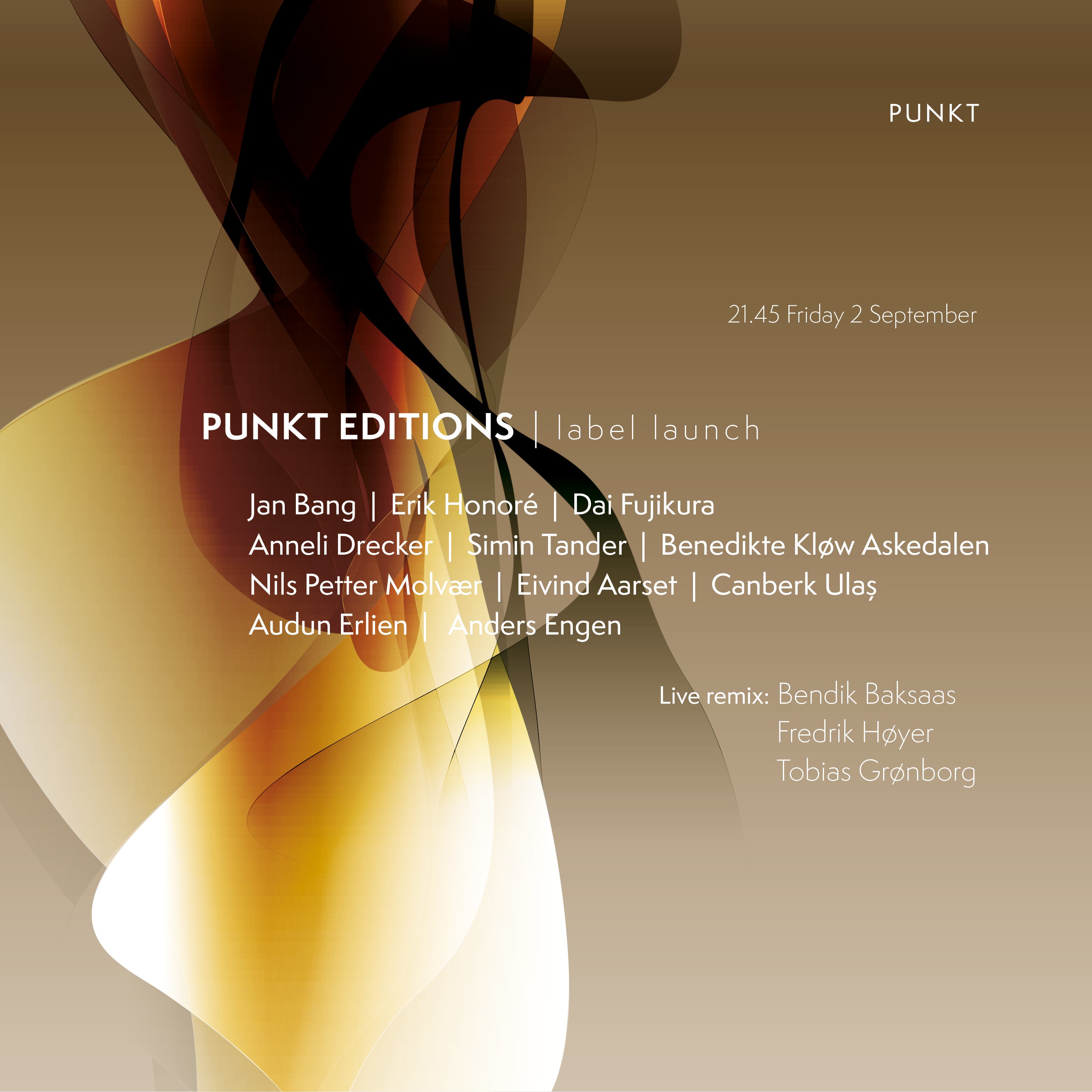 This year we launch the Punkt Editions label, a platform for Punkt related music, artwork and literature, organised as a sub-label of Bugge Wesseltoft's Jazzland Recordings. Punkt Editions will release live and studio recordings from the vaults, as well as brand new recordings produced and/or curated by Jan Bang and Erik Honoré, including solo releases by the two Punkt founders, various collaborations, and albums by other artists in the Punkt network.
The concert on Friday 2 September will feature music from the first Punkt Editions release, Dai Fujikura and Jan Bang's album 'The Bow Maker', plus the premiere of more exciting material to be released on the label later this year. This includes Jan Bang's 'Reading the Air', a song based album co-produced, mixed and with lyrics by Erik Honoré, featuring vocal contributions by Anneli Drecker, Simin Tander and Benedikte Kløw Askedalen, who will all be on stage for this very first Punkt Editions label night.
They will be joined by other musicians featured on these and other future Punkt Editions releases: Nils Petter Molvær, Canberk Ulas, Eivind Aarset, Audun Erlien and Anders Engen.
The concert will be live remixed by spoken word artist Fredrik Høyer and electronics wizards Bendik Baksaas and Tobias Grønborg.
Personnel
Jan Bang: live-sampling guru, producer, professor, co-founder of Punkt, and curator of Punkt Editions. His album with Dai Fujikura, "The Bow Maker" is the label's debut release.
Erik Honoré: keyboard player, laptop musician, producer, lyricist, novelist, co-founder of Punkt, and curator of Punkt Editions.
Dai Fujikura: composer, keyboards player, and a well-established Punkt collaborator (including works with David Sylvian). His works are primarily released through his own label, Minabel Records, but his collaboration with Jan Bang, "The Bow Maker", is the debut release on Punkt Editions.
Anneli Drecker: vocalist who first became known through her band, the multi-award-winning Bel Canto, in the 1980s. Apart from establishing herself firmly as a solo artist, she has worked with a spectacular array of musicians since then, including Hector Zazou, Jah Wobble, Tim Simenon, Guy Sigsworth, Ketil Bjørnstad, Morten Harkett and Röyksopp.
Simin Tander: Award winning vocalist and ECM recording artist recognised as one of the most outstanding voices in European jazz. She "balances on the boarders of pain and beauty, of gracefulness and passion." (Augsburger Allgemeine Zeitung, GE) and sings with a rare intensity.
Benedikte Kløw Askedalen: vocalist and songwriter from the outskirts of Sandefjord, mainly focusing on folk/country, electronic pop music and free improvisation. A returning performer on the Punkt stage after a lauded performance in 2021.
Nils Petter Molvær: trumpet player, composer, producer, and long-time Punkt participant and collaborator. Has released numerous highly acclaimed albums for ECM and on his own label, Sula Records.
Eivind Aarset: guitarist and key Punkt participant who has worked a wide range of artists including Ray Charles, Dee Dee Bridgewater, Jon Hassell, Ute Lemper, Ketil Bjørnstad, Andy Sheppard, Mike Mainieri, Arild Andersen, Abraham Laboriel, Dhafer Youssef, Django Bates, and Nils Petter Molvaer.
Canberk Ulaş: duduk player, instructor, experimental duduk-maker, and founder of the "Canberk Ulaş Quartet". He released his album titled "Telafi" with this band in 2017.
Audun Erlien: bassist and keyboard player. A key member of the Eivind Aarset 4Tet, and formerly Nils Petter Molvær's band as well as his own highly acclaimed trio, Spirit in The Dark.
Anders Engen: drummer who has worked with Bugge Wesseltoft, Morten Harket, Eivind Aarset, Laurent Garnier, etc, and the other half of the rhythmic backbone of Spirit in the Dark with Audun Erlien.
LIVE REMIX: BENDIK BAKSAAS | FREDRIK HØYER | TOBIAS GRØNBORG
Bendik Baksaas: composer and electronic musician (notably using modular synthesis). His style and production is minimalist in inclination. He moves between club music, reinterpretation of Norwegian folk music, and ambient soundscapes.
Fredrik Høyer: Poet, performer, actor. He is best known for his performances with spoken words/stunt poetry, where he performs in literary, musical, and cultural contexts. It can be described as a combination of traditional poetry, rap, stand-up and theatre monologue.
Tobias Grønborg: multi-instrumentalist (also known as Doglover95). With a love of hip-hop and experimentation, Tobias cuts a unique path, one that can incorporate diverse materials and obliterate stereotypes of genre.