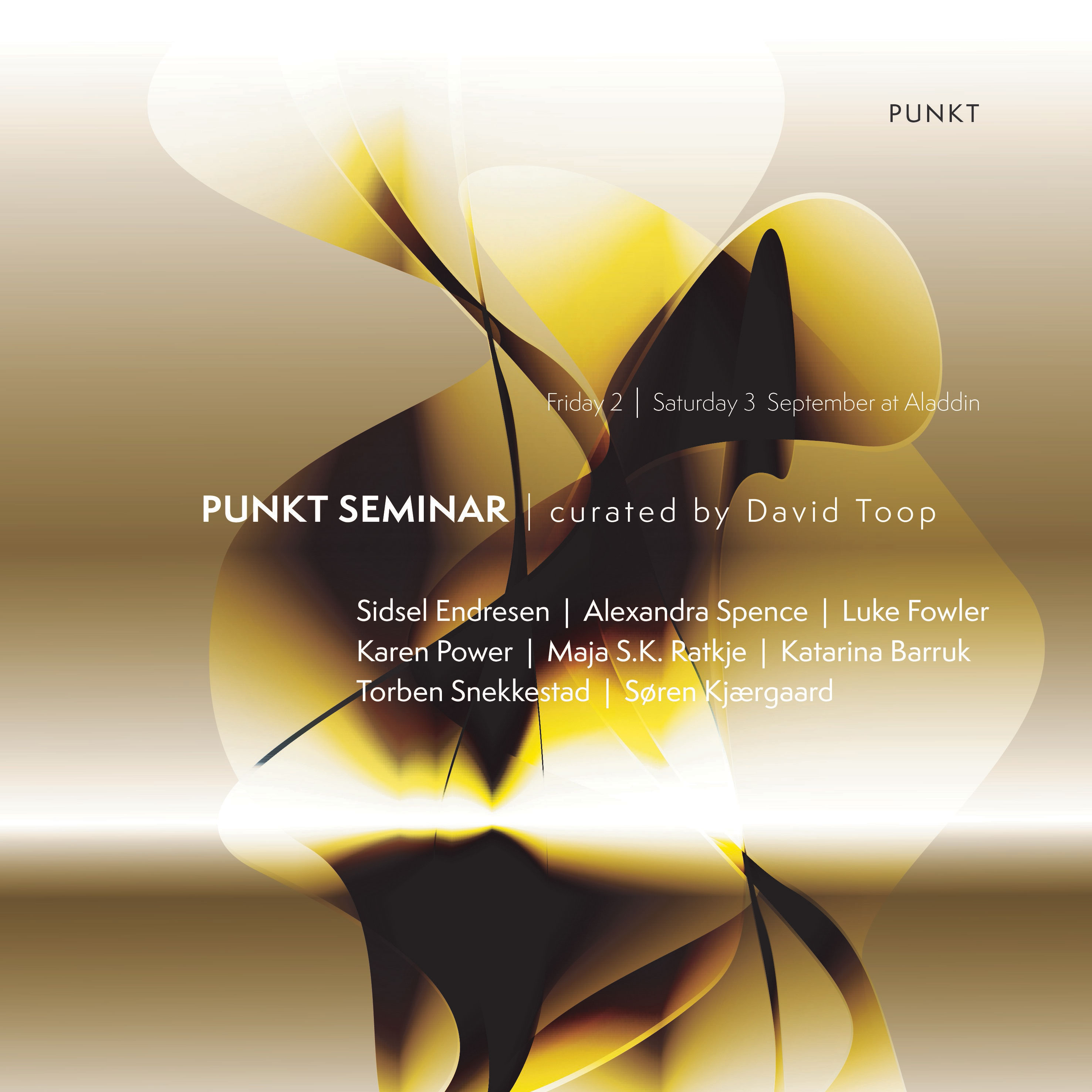 Curated by David Toop
David Toop has been developing a practice that crosses boundaries of sound, listening, music and materials since 1970. This encompasses improvised music performance, writing, electronic sound, field recording, exhibition curating, sound art installations and opera. It includes eight acclaimed books, including Rap Attack (1984), Ocean of Sound (1995), Sinister Resonance (2010), Into the Maelstrom (2016), Flutter Echo (2019) and Inflamed Invisible: Writing On Art and Sound 1976-2018 (2019). Briefly a member of David Cunningham's pop project The Flying Lizards in 1979, he has released fourteen solo albums, from New and Rediscovered Musical Instruments on Brian Eno's Obscure label (1975) and Sound Body on David Sylvian's Samadhisound label (2006) to Entities Inertias Faint Beings (2016) and Apparition Paintings (2021). His 1978 Amazonas recordings of Yanomami shamanism and ritual were released on Sub Rosa as Lost Shadows (2016). In recent years his collaborations include Rie Nakajima, Akio Suzuki, Tania Caroline Chen, John Butcher, Ken Ikeda, Elaine Mitchener, Henry Grimes, Sharon Gal, Camille Norment, Sidsel Endresen, Alasdair Roberts, Lucie Stepankova, Fred Frith, Thurston Moore, Ryuichi Sakamoto. Curator of sound art exhibitions including Sonic Boom at the Hayward Gallery (2000), his opera – Star-shaped Biscuit – was performed in 2012.
Friday
11:00 Alexandra Spence
Alexandra Spence is a sound artist and musician living on unceded Wangal land in Sydney, Australia. Through her practice Alex attempts to reimagine the intricate relationships between the listener, the object, and the surrounding environment as a kind of communion or conversation. Her aesthetic favours field recordings, analogue technologies and object interventions. Alex has presented her art and music in Australia, Asia, Europe, and North America including the Vancouver Art Gallery; BBC Radio; Ausland, Berlin; Radiophrenia, Glasgow; Museo Reina Sofia, Madrid; Sound Forms Festival, Hong Kong; MONO, Brisbane; The Substation, Melbourne; Soft Centre, and Liveworks Festival, with Liquid Architecture, Sydney. She has released her music with labels Room40, Long Form Editions, More Mars (w. MP Hopkins), Canti Magnetici, and has a forthcoming release with Mappa. (She holds the belief that electricity might actually be magic).
12:00 Torben Snekkestad / Søren Kjærgaard
Søren Kjærgaard's work as a pianist, composer and improviser encompasses a variety of settings ranging from his trans-Atlantic trio with drummer Andrew Cyrille and bassist Ben Street, to the duo collaboration with Torben Ulrich, the 82 year old legendary Danish tennis player and inter-disciplinary artist.
Most of S.K.'s activities in recent years have been exploring and interweaving different approaches to music and sound, converging elements of improvisation, composition, performativity and practice into one dynamic field of play. This has lead to a manifold of international exchanges, commissions and a growing discography of critically acclaimed albums
S.K. graduated at the Rhythmic Music Conservatory in 2002, after having done his diploma in New York City. He has received numerous awards and grants, including 1st Prize in the Young Nordic Jazz Comets ('00), the Danish Radio Jazz Prize ('04), three Danish Music Award nominations ('06, '09), a Danish Arts Council Prize Award ('10) for the album "Open Opus" with Kjærgaard/Street/Cyrille and his third trio release "Femklang" with Street and Cyrille was selected as Album Of The Year 2011 in The New York Jazz Record.
In recent years, S.K. has toured extensively in Europe, Asia, Canada and the US with both his own projects and in various collaborations. Having released 10 albums as a leader and played on thirty-some albums as a sideman, SK is regarded as one of the leading voices coming out of the vibrant Danish jazz, improv- and new music scene today.
http://sorenkjaergaard.com
Over the years, Torben Snekkestad has explored vast areas of music in a reflected and open-minded way. From free improvisation and jazz playing as a leader and sideman, to classical chamber music playing and as a soloist with symphony orchestras/sinfonietta.
In both his solo and ensemble work he manages to channel these manifold musical footsteps into a singularly identifiable saxophone sound, creating a highly elaborate and idiosyncratic musical language.
With a distinct poetic ear, extremely extended playing techniques, intuitive improvisations, evocative compositional use of structure and textures, Snekkestad earns himself a place as one of the most inspiring Scandinavian saxophonists around.
Performed and worked with, among others: Barry Guy, Nate Wooley, Maja S.K. Ratkje, Koichi Makigami, Thomas Strønen, Arve Henriksen, Søren Kjærgaard, Raymond Strid, Peter Evans, Augusti Fernandez, Paal Nilssen-Love, Andrew Cyrille, Jon Balke and Cikada String Quartet.
Toured extensively throughout Europe, USA, Russia, East Asia and Argentina.
http://torbensnekkestad.com
13:00 Sidsel Endresen
Sidsel Endresen has been at the forefront of the Norwegian music-scene for more than 40 years. Her work has spanned genres from "fusion" and "jazz-rock in the 1980s, via "chamber-jazz" in the 1990s, to free-improvisation, electronics and "new music" from the late 1990's until today.
She has fronted a number of her own projects and groups since 1984 and collaborated with a large number of Norwegian and international jazz and contemporary musicians. She has provided lead vocals to Norwegian and International bigbands, choirs and symphonic orchestras, worked within multi-media, performance, theatre and dance, and performed extensively with the voice as solo instrument. Today she is regarded as one of the most influential performers within free improvisation and extended vocal techniques. Since 1990 she has received wide international recognition and critical acclaim.
She has released 20 albums and participated as sidewoman on more than 40 of other artists' releases. She has also participated in various film-scores, both as singer and songwriter.
She has received numerous awards and nominations including 5 Norwegian Grammies, the Buddy Award in 2000 (Norway's highest ranking Jazz award), Oslo City's Artist Award in 2002, Umeaa Honorary Music Award in 2013 ,the WDR artist award 2016,a.o., as well as being nominated for the Nordic Council Music Award in 2001 and 2011 (Scandinavia's highest ranking music award).
Saturday
11:00 Luke Fowler
Scottish artist, filmmaker and musician Luke Fowler (1978) has developed a practice that is, at the same time, singular and collaborative, poetic and political, structural and documentary, archival and deeply human. With an emphasis on communities of people, outward thinkers and the history of the left, his 16mm films tell the stories of alternative movements in Britain, from psychiatry to photography to music to education. Whilst some of his early films dealt with music and musicians as subjects, in later works sound itself becomes a key concern. (Maria Palacios Cruz)
12:00 Maja S. K. Ratkje / Katarina Barruk
Maja Solveig Kjelstrup Ratkje is a Norwegian composer and musician. Her work spans from scores for ensembles to improvised live performances. She writes for orchestras as well as performing herself as a soloist or in groups such as SPUNK besides Avant Joik. She has received numerous awards, and is one of the most respected avant-garde musicians in Europe the last 15 years. In 2001 Ratkje was the first to receive the prestigious Arne Nordheim award.
Katarina Barruk from Västerbotten, Sweden, is known as one of Sápmi's most talented live artists. A unique and captivating performer, she uses her voice as her instrument, mixing joik and other vocal techniques. In 2020 she received one of the most eligible writer and composer prizes in Sweden – SKAPs Kulturbärarpris. Barruk presents her own compositions in Ume Sámi language, a language which is on UNESCO's red list of critically endangered languages, and that she cares deeply for.
13:00 Karen Power
Karen Power (www.karenpower.ie ) is an Irish composer, sound artist, improvisor + educator. Her creative output utilises acoustic instruments, everyday sounds, spaces and heard/unheard soundscapes. Every day environments and how we hear every day sound lies at the core of Karen's practice, with a continued interest in blurring the distinction between what we consider 'music' and all other sound. Listening and recording throughout the world and discovering the uniqueness of a place through sound allows her work to share, enhance, respect and highlight everyday and extraordinary environments in equal measure. Karen has listened and recorded in some of the worlds most isolated and challenging locations: The Arctic, Amazon, Namib Desert, Outback Australia and most recently Antartica. She has found inspiration in the natural world, specifically appreciating when uninterrupted by us and it is allowed time to unfold. Karen's art utilises our inherent familiarity with such sounds, as a means of engaging with performers and audiences with ambitions of altering our relationship with our world and how are behave and effect change within our living environments. Karen's most recent self-release is human nature: 18 short duets between human and nature, which can be heard on bandcamp.