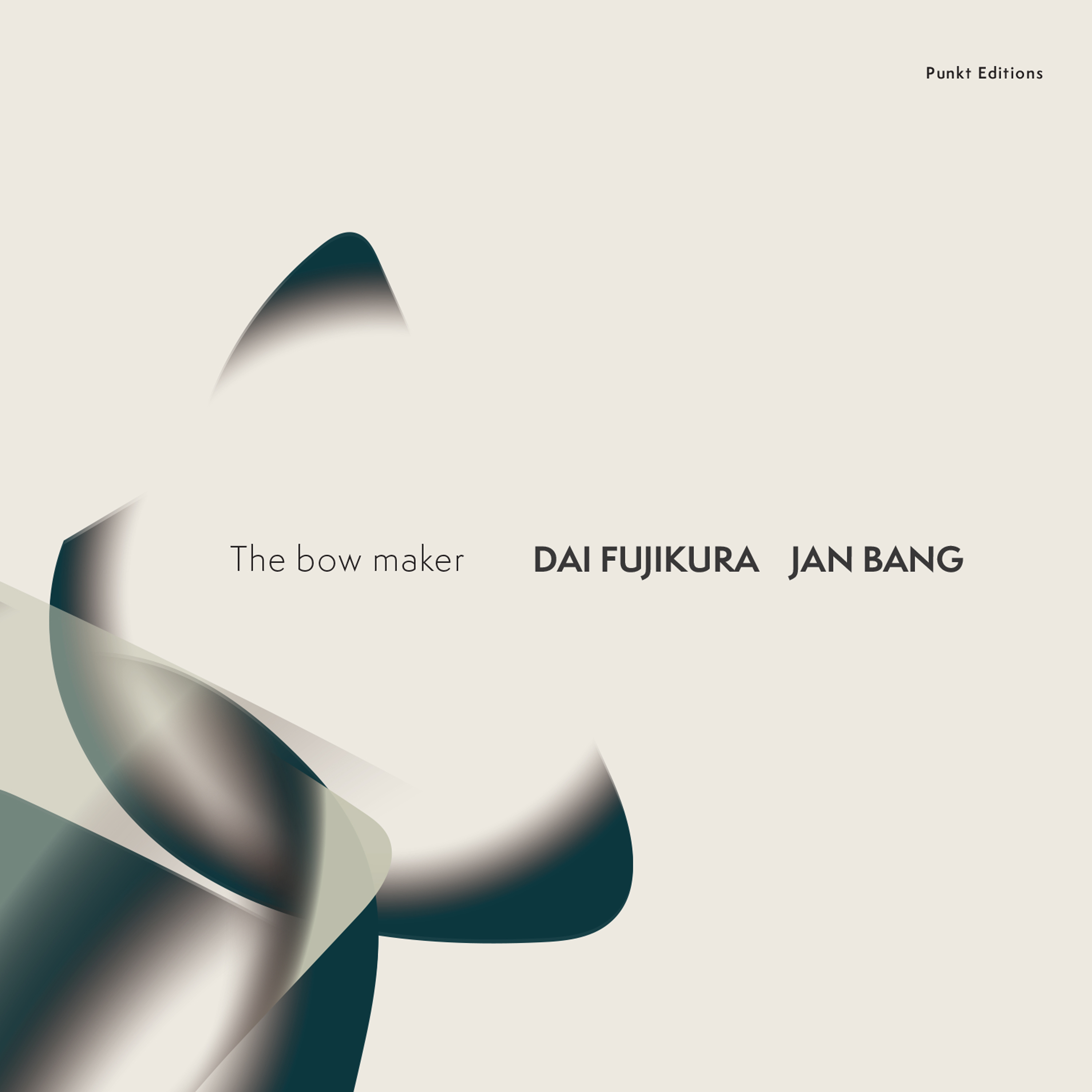 From the opening grand diptych of "Night Poles River" through its eight tracks, Dai Fujikura and Jan Bang's The Bow Maker is an album of multidimensional musical movements – not in the conventional compositional sense, but in the sense of actual movement: the music is constantly active, enveloping the listener, surrounding them with evanescent sonic spaces.
Featuring Dai Fujikura on synthesisers throughout (apart from one piece, "Implanted Memories", to which he contributes orchestral samples), alongside Jan Bang's unique use of samples, sound processing, and programming, the album features an ever-changing cast of contributors. Eivind Aarset's guitar moves between textural elements, broad warm glissandos, and brief interjections of unidentifiable sounds. Arve Henriksen provides his fluid trumpet playing and breathy falsetto vocals. Nils Petter Molvær's trumpet provides different moods from that of Henriksen's, despite sharing stylistic musical DNA. Kati Raitinen's resonant cello on the title track creates an evocative textural contrast with the shifting sonic world around it. Tamami Tono's Sho (a mouth organ, a Japanese traditional instrument) conjures a unique acoustic terrain that undulates and rolls through angular peaks and valleys.
The mood and atmosphere of each piece is distinct, sometimes wide in scope and spacious, sometimes enclosed and focussed, sometimes warm and hazy, sometimes cool and crystalline. The fleeting elements – whether brief incursions of drums, prepared piano or orchestra, half-glimpsed field recordings, or manipulated echoes of the other instruments – populate these spaces with a kind of ongoing life through which a leading instrument, often trumpet or voice or both, can swoop and weave. It is like shifting illumination and silhouettes behind shoji.
The combination of the organic spirit of the music (despite its electronic nature) with the versatility of the musicians involved means that while sounds are clearly differentiated within the soundscape, their true source is often unclear.
Seemingly freeform, the pieces contain subtle structures over which the music flows like windblown silk, vacillating between obscuring this supporting architecture, creating clinging outlines if it, or briefly revealing it. The closing piece, "Satellite Sister", perhaps follows mostly closely the structure of a conventional song, albeit through implied repetition and counterpoint.
The album could arguably be regarded as a perfect example of the "Punkt Sound". This is not music that reclines into the background to be unnoticed, not a new age meditation soundtrack, not sonic furniture. It is music that engages directly with the listener, actively permeating their consciousness, capturing their attention.
That this album should be identifiable as possessing the "Punkt Sound" is perhaps appropriate, as this is the first release from Punkt Editions, a new record label curated by Jan Bang and Erik Honoré.
Music composed by Jan Bang and Dai Fujikura
except where indicated. Copyright Control [ Tono, PRS ]
1, 2, 5, 6, 7, 8 mixed at Punkt Studio, Kristiansand
1 assembled and edited by Dai Fujikura
4 mixed by Dai Fujikura in London
Recorded and mixed at Punkt Studio, Kristiansand, by Jan Bang
Dai Fujikura recorded at home in London
Arve Henriksen recorded at home in Gothenburg
Kati Raitinen recorded by Erik Arvinder at AB Studio, Stockholm
Mastered by Mike Grinser at Manmade Mastering
Artwork and design by Nina Birkeland
Supported by Det Norske Komponistfond
Thanks to Eivind, Arve, Nils Petter, Kati, Erik, Tamami,
Matthew, Rune, Martel, Sten and Nina
VINYL EDITION AVAILABLE FEBRUARY 1st 2022 - PREORDER NOW.