Punkt Seminar 2023
---
Mariam Gviniashvili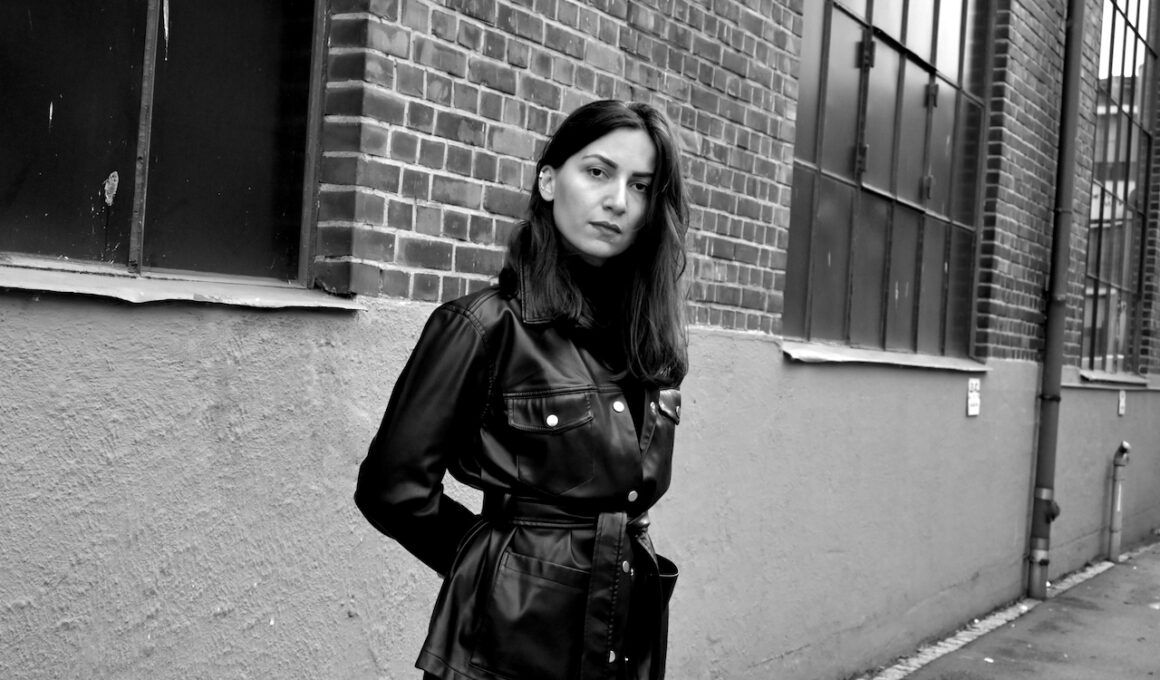 Mariam Gviniashvili works as a sound artist and composer, combining electronics, electroacoustics and 3D sound technology with visuals, dance and live performance to penetrate deeply into the physical and emotional essence of sound and space.
Music has followed Gviniashvili through her life since early childhood. Growing up in eastern Georgia, she sang and played piano, and gradually found her feet as a composer and visual artist while studying composition at the Norwegian Academy of Music.
Festivals, major venues and radio programmes have presented Gviniashvili's music, including the New York Electroacoustic Music Festival (USA), BEAST FEaST (UK), Transitions at CCRMA (USA), MA /IN (Italy), ICMC (Korea), Cube Fest (USA), Mixtur Festival (Spain), ARD Radio Play Days at ZKM (Germany), BBC Radio (UK), SWR Radio (Germany), Ars Electronica (Austria), Klingt Gut (Germany), In Situ Festival (Denmark), DME (Portugal), Heroines of Sound (Germany) and Ultima Festival (Norway).
---
Haroon Mirza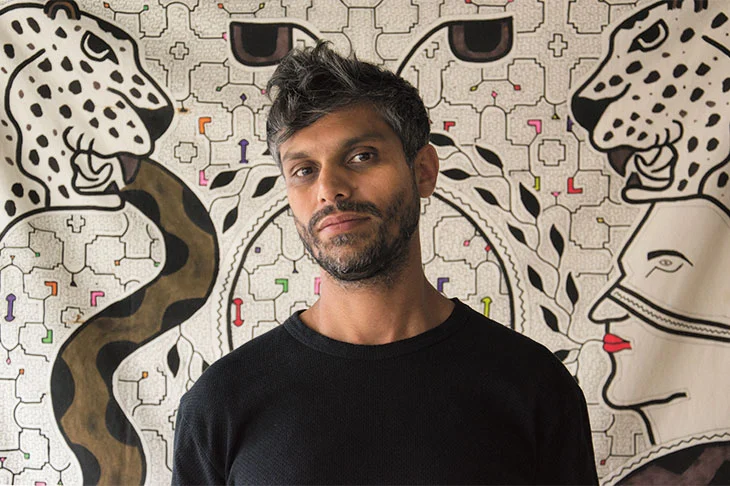 Haroon Mirza was born in 1977 in London, where he lives and works. He has a BA in painting from Winchester School of Art, and MAs in critical practice and theory from Goldsmiths College, London, and in fine art from Chelsea College of Art and Design.
Mirza has won international acclaim for installations that test the interplay and friction between sound and light waves and electric current. He devises sculptures, performances and immersive installations, such as The National Apavillion of Then and Now (2011) – an anechoic chamber with a circle of light that grows brighter in response to increasing drone, and completely dark when there is silence, or the Dyson Sphere (2022) – an earthbound version of a hypothetical, off-world megastructure in which a sun-like central tungsten light powers a carapace of photovoltaic panels.
Processes are left exposed and sounds occupy space in an unruly way, testing codes of conduct and charging the atmosphere. Mirza asks us to reconsider the perceptual distinctions between noise, sound and music, and draws into question the categorisation of cultural forms.
---
Ania Psenitsnikova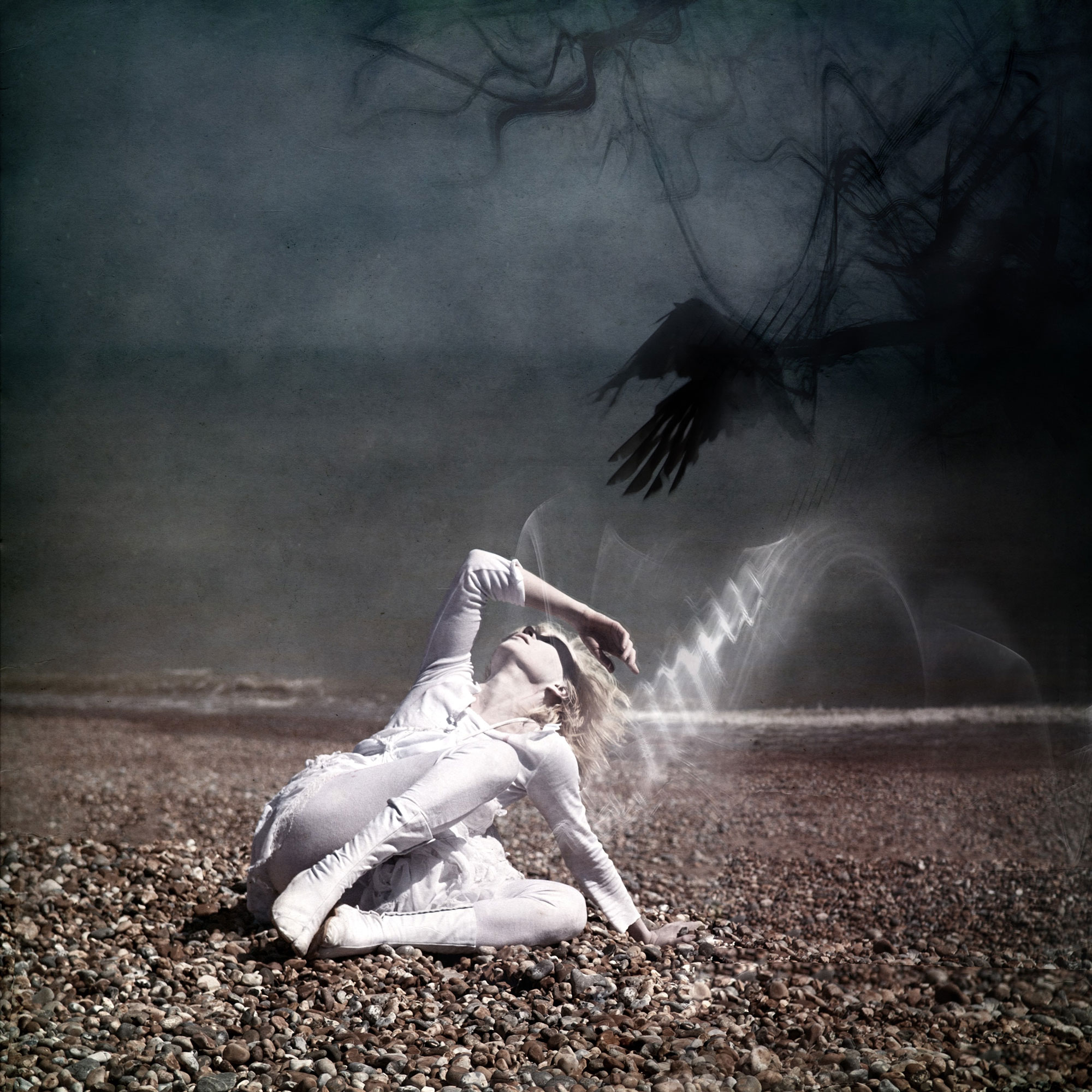 Ania Psenitsnikova is a visual and performance artist and curator. Born in 1981 in Estonia, since 2004 she traveled and learned butoh dance with Flavia Ghisalberti, Moeno Wakamatsu, Masaki Iwana, Daisuke Yoshimoto, and others and performed around Europe and in Russia. She completed a dance degree in Brighton and has been studying music independently since 1996, worked as an aerial dance artist since 2011 and bodywork therapist since 2015. Together with Rodina Art group she curated a series of exhibitions entitled "One Can Not Be Too Careful," exploring censorship in the UK, Germany, Belorusia and Russia, as well as an ecological festival - "Grow and Decay" - in Estonia, and took part in feminist and post-activist performances in Russia. Most importantly, she managed to combine all these activities with being a single mother. Her main interest is butoh and improvisation: a unique and magical tradition to live and act in the present, allowing spontaneity in life, and in the words of Tatsumi Hijikata: "to watch from the perspective of an animal, an insect, inanimate objects . . . value everything."
---
Nour Sokhon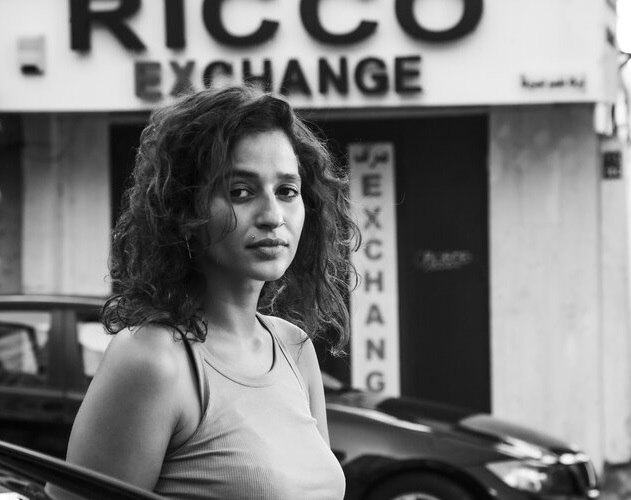 Nour Sokhon is a Lebanese artist based in Berlin, Germany. Her creative practice is centered around exploring different methods of working with artistic research including interview material, field recordings and recorded material from an organized site specific intervention. The research is then translated into sound/music compositions, performances, interactive installations and moving image work.
In 2014, Nour achieved an undergraduate degree in Fine Arts from the American University in Dubai, and in 2017 she culminated a large scale project; a documentary entitled 'People on Sound', as part of her Master's degree in Sound for the Moving Image at the Glasgow School of Art in the UK. In 2019, Nour received the Emerging Artist Prize at the Sursock Museum in Lebanon, for a moving image piece entitled 'Revisiting: Hold Your Breath'.
Nour has exhibited her artwork in Beirut, Dubai, London, Glasgow, Paris, Hamburg, Madrid, Zurich, Utrecht, Juterbog, Sellasia Montreal, Melbourne, Soustons, and Beirut. She has also performed in Frankfurt, Berlin, Beirut, Dubai, Paris, Amsterdam, Athens and Bern. In addition she has participated in various festivals such as the Al Quoz Arts Festival (Dubai, UAE), the Other Worlds Festival (Blackpool, UK), the Network Music Festival 2020 (online), This Is Not Lebanon 2021 (Frankfurt, Germany) and Irtijal Festival (Istimrar Commision Series, Beirut, Lebanon). She is a member of Heya Sound Collective.
---
Cory Arcangel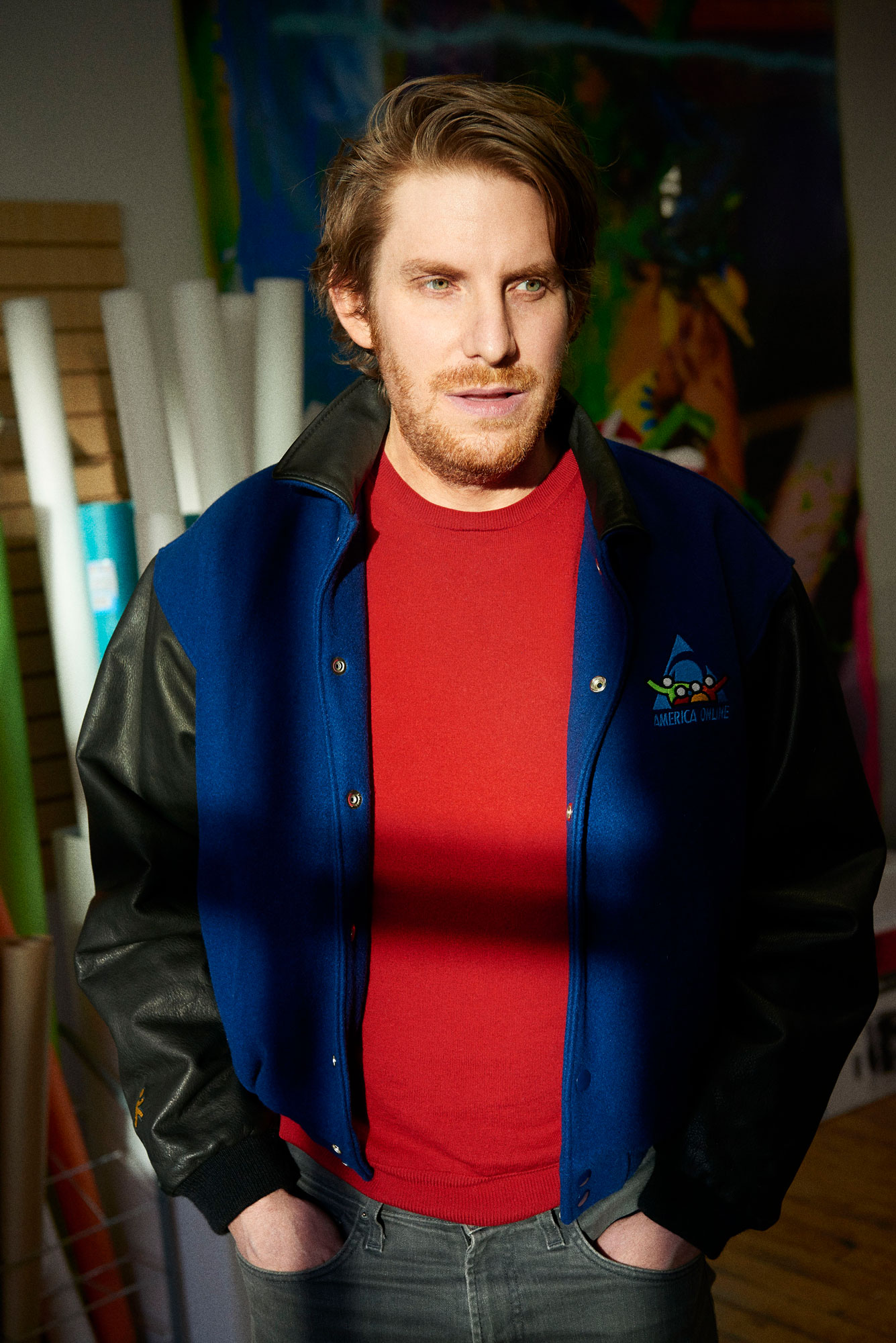 Cory Arcangel (born 1978, Buffalo, NY) is an artist and composer living and working in Stavanger, Norway.
Arcangel explores the potential and failures of old and new technologies, highlighting their obsolescence, humor, aesthetic attributes and, at times, eerie influence in contemporary life. Applying a semi-archeological methodology, his practice explores, encodes, and hacks the structural language of video games, software, social media and machine learning, treating them as subject matter and medium.
His work has been exhibited in solo exhibitions at the Kunstverein in Hamburg, Hamburg; Whitney Museum, New York; Carnegie Museum of Art, Pittsburgh; Barbican Art Center, London; Reykjavik Art Museum, Iceland; Hamburger Bahnhof, Berlin; and Museum of Contemporary Art, Miami and the Migros Museum für Gegenwartskunst in Zürich.
---
Camille Norment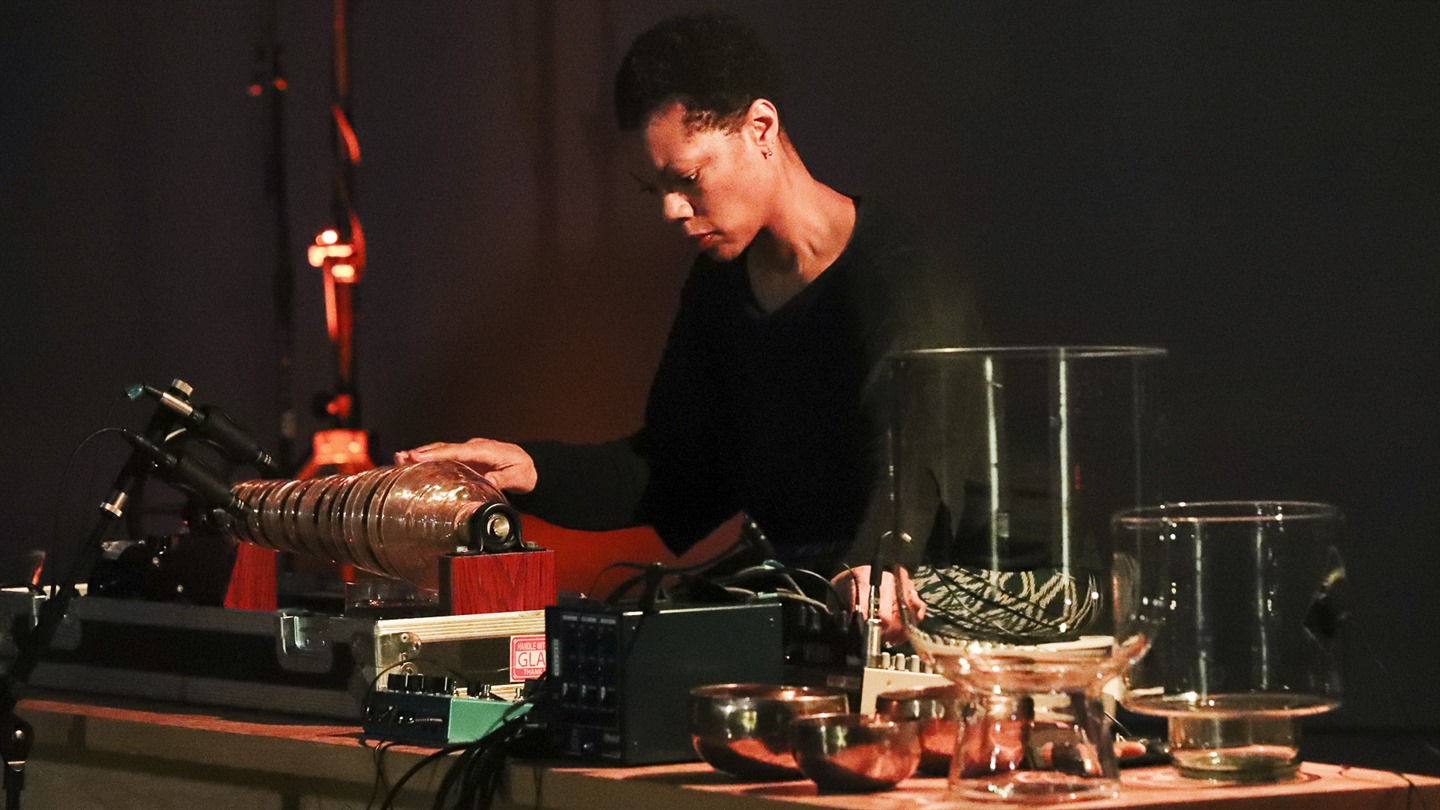 Working with, and through sound in forms including drawing, installation, performance, and composition, Camille Norment utilizes the notion of cultural psychoacoustics as both an aesthetic and conceptual framework. It is driven by the investigation of entangled cultures around experiential phenomena, through sound and music - particularly instances of sonic and social dissonance. Current investigations continue the exploration of feedback in relation to revolution, evolution, power structures, spirituality, and posthuman systems, within sliding scales and spectrums of time, space, and body.
Camille Norment will perform with David Toop in Biennale de Son, 2023 and an extended Jan Bang ensemble in Punkt Oslo. Other highlights for the 2022 – 2023 seasons include solo commissions for the Dia Art Foundation in New York, solo exhibition as the Festival Artist 2023 in Bergen Kunsthall and the simultaneous premier of a 13-ensemble music commission in the Bergen Festspillene music festival, exhibition in Punta della Dogana, Venice, and related performance, and the premier of a performance commission for the Munch Museum, Oslo. Norment is the recipient of the Nam June Paik 2023 Award.
Her work has also recently been shown in solo exhibitions at Oslo Kunstforening, Norway (2017), Temple Bar Gallery + Studios (Dublin, 2017), and Reva and David Logan Center for the Arts (Chicago, 2019/20). Several permanent public installations and sculptures of her work are installed in Norway and Italy. She has recently performed at institutions including Renaissance Society (Chicago, with Hamid Drake, 2019), Walker Art Center (Minneapolis, with Craig Taborn, 2019/22), the Munch Museum (Oslo, 2022), and The Stone and in Sapporo with the late Ryuichi Sakamoto (2018, 2017). Her albums include "Toll" (2011) and the soundtrack and special-edition LP for the film "The Haunted" (2017/20). Norment represented Norway in the 2015 Venice Biennale and has since participated in the Kochi-Muziris (2016), Montreal (2016), Lyon (2017), and Thailand (2018) biennials.
Born in Silver Spring Maryland, she lives and works in Oslo, Norway.
---
David Toop
David Toop has been developing a practice that crosses boundaries of sound, listening, music and materials since 1970. This encompasses improvised music performance, writing, electronic sound, field recording, exhibition curating, sound art installations and opera. It includes eight acclaimed books, including Rap Attack (1984), Ocean of Sound (1995), Sinister Resonance (2010), Into the Maelstrom (2016), Flutter Echo (2019) and Inflamed Invisible: Writing On Art and Sound 1976-2018 (2019). Briefly a member of David Cunningham's pop project The Flying Lizards in 1979, he has released fourteen solo albums, from New and Rediscovered Musical Instruments on Brian Eno's Obscure label (1975) and Sound Body on David Sylvian's Samadhisound label (2006) to Entities Inertias Faint Beings (2016) and Apparition Paintings (2021). His 1978 Amazonas recordings of Yanomami shamanism and ritual were released on Sub Rosa as Lost Shadows (2016). In recent years his collaborations include Rie Nakajima, Akio Suzuki, Tania Caroline Chen, John Butcher, Ken Ikeda, Elaine Mitchener, Henry Grimes, Sharon Gal, Camille Norment, Sidsel Endresen, Alasdair Roberts, Lucie Stepankova, Fred Frith, Thurston Moore, Ryuichi Sakamoto. Curator of sound art exhibitions including Sonic Boom at the Hayward Gallery (2000), his opera – Star-shaped Biscuit – was performed in 2012.
---
Photo Credits
Mariam Gviniashvili by Balint Laczho.
Haroon Mirza by Gaia Fugazza.
Nona Hendryx by Hollis King.
Nour Sokhon by Omar Sfeir.
Cory Arcangel by Tim Barber.
Camille Norment by Meg T. Noe.
David Toop by Alf Solbakken.