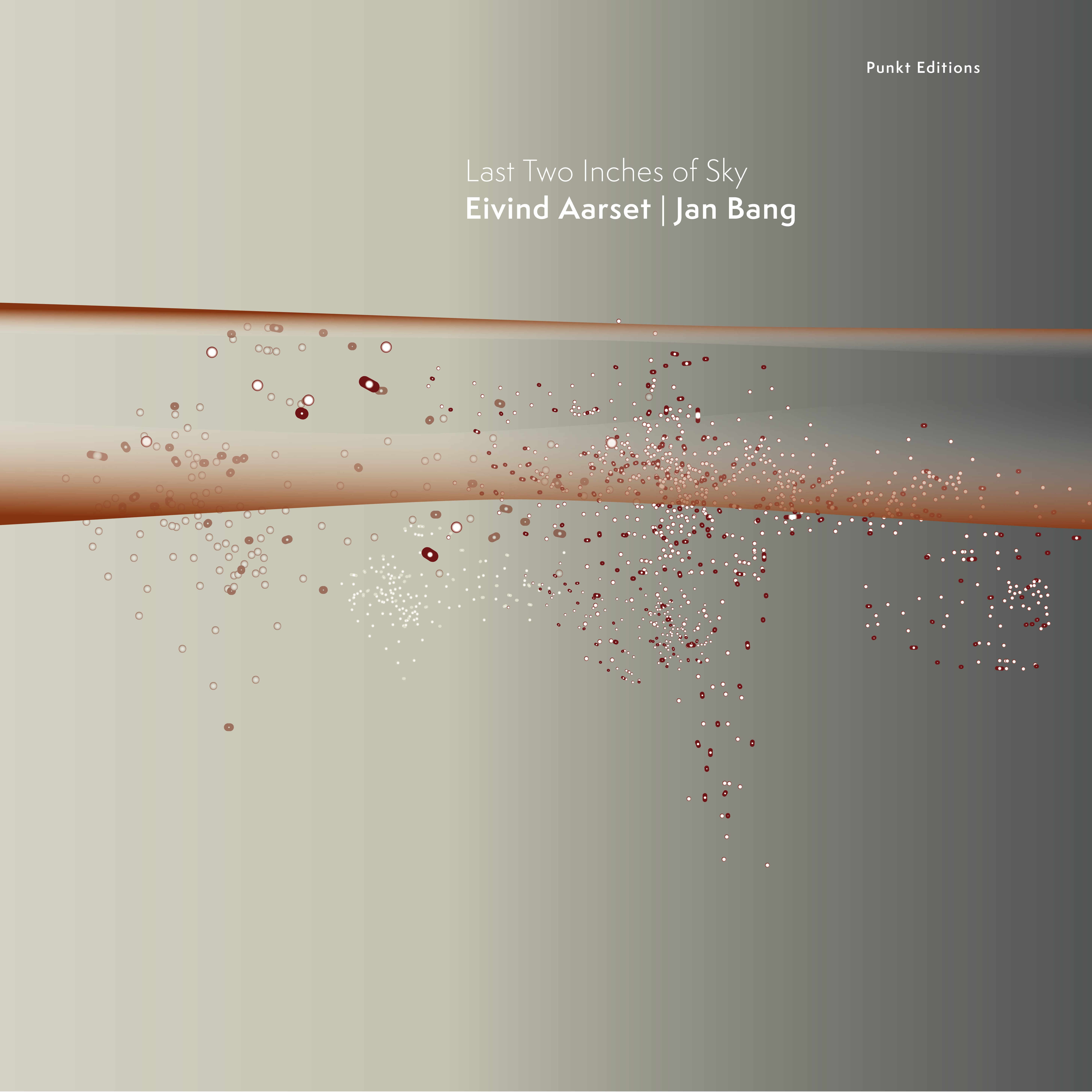 «Last Two Inches of Sky» is an ambitious and engaging mixture of sonic painting and art-pop; a new high point in Eivind Aarset and Jan Bang's collective output.

Aarset and Bang have collaborated since the early 1990s in constellations with, among others, Nils Petter Molvær, Bugge Wesseltoft, Sly & Robbie and Jon Hassell. «Snow Catches on her Eyelashes» (2020) was their first recording as a duo, an album that was widely praised, inspiring John Eyles of All About Jazz to write: «Aarset, Bang and company go from strength to strength, as does the Norwegian scene. Onward and upward.»

«Last Two Inches of Sky» further expands this sonic universe – onward and upward. Like its predecessor, the new recording is an amalgam of styles, linked together by Jan Bang's hallmark sampling technique and Eivind Aarset's continuous exploration of the guitar. Now, the rhythm section of Audun Erlien (bass) and Anders Engen (drums) are prominent on most tracks, and the arrangements are enhanced by guests like Gianluca Petrella (trombone), Adam Rudolph (percussion), Emanuel Birkeland-Bang (drum programming) and Erik Honoré (samples, lyrics on «Legion»).

Both conceptually and sonically, «Last Two Inches of Sky» is a multi-dimensional experience of dreams within dreams, layers upon layers of colours, light and shade. While the seamlessness and warmth of the duo's earlier work is still present, the new album is thoroughly grounded in a bass/beat foundation owing much to the Jamaican sound systems of the 1970s, but placed within a decidedly 2020s context.

At times the music crosses from abstract soundpainting into melodic art-pop territory, primarily on the two vocal pieces, still with a distinctive dub feeling at its core: «Legion» with vocals by Nona Hendryx (founder member of Labelle) and the title track sung by Tim Elsenburg of British quartet Sweet Billy Pilgrim.

On this track, with its Icarus-inspired imagery of ambition, risk and hope, Tim Elsenburg yearns for the hollow bones of birds; light enough for the protagonist to break free, to soar:

Everything I know is like a rope around the ankles
Hollow out my bones and take me higher
To the last two inches of sky

Listening with your eyes closed, this is exactly the escape that Eivind Aarset and Jan Bang's powerful new album offers you. Close to the sun, perhaps, but grounded by the beat.


***
Jan Bang - MPC programming, live sampling, synthesiser, LFO creatures, textures

Eivind Aarset - Guitars and electronics, additional bass

Audun Erlien - Bass

Anders Engen - Drums

Adam Rudolph - Percussion

Nona Hendryx - Vocals on "Legion"

Time Elsenburg - Vocals, synthesizer, piano on "Last Two Inches of Sky"

Erik Honoré - Synthesizer, treatments on "City Never Sleeps", mix on "Last Two Inches of Sky"

Gianluca Petrella - Trombone on "Legion"


Samples*
Building Instrument (on "Last Two Inches of Sky")
Arve Henriksen (on "City Never Sleeps")

* Used by kind permission

***

Music composedby Jan Bang and Eivind Aarset except
"City Never Sleeps" composed by Bang/Aarset/Honoré
"Legion" lyrics by Erik Honoré and Nona Hendryx
"Last Two Inches of Sky" composed by Bang/Aarset/Elsenburg. Lyrics by Elsenburg.

Mixed by Bjarne Stensli at Rainbow Studio, Oslo.
"Last Two Inches of Sky" co-produced by Tim Elsenburg and mixed by Erik Honoré at The Green Room, Oslo.
Mastered by Mike Grinser at Manmade Mastering, Berlin.
Artwork and design by Nina Birkeland.
Writers and Publishing: Copyright Control except "Legion" published by Eat Your Heart Out Music / Copyright Control (TONO).

Recorded at Punkt Studio, Kristiansand, by Jan Bang.
Recorded at Ampertone, Oslo, by Johnny Skalleberg and Thomas Pettersen.
Tim Elsenburg recorded at home in Aylesbury.
Nona Hendryx recorded at Orange Sound Studio, New York, by James Dellatacoma.
Gianluca Petrella recorded in Torino, Italy.
Adam Rudolph recorded in New York.
Recorded with support from Norsk Jazzforum and Nopa.

Thanks to Nona Hendryx, Nina Birkeland, Anders Engen, Audun Erlien, Erik Honoré, Gianluca Petrella, Bjarne Stensli, Emanuel Birkeland-Bang, Arve Henriksen, Tim Elsenburg, Adam Rudolph, Sten Nilsen, Ruben Olsen Lærk, Mari Kvien Brunvoll & Building Instrument.